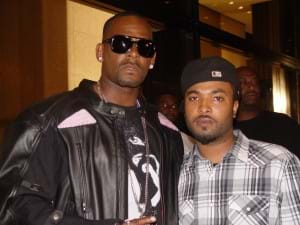 Missing Link Music has signed an agreement with Grammy nominated record producer and songwriter,
"Raphael and his brother Roy Hamilton III (producer) are riding high as co-writers of "Number One," one of the best-reviewed tracks on R. Kelly's latest disc.
"I felt great about it," said Riffraph, of Mays Landing, about hearing his song on the radio and seeing it reach No. 8 on Billboard's R&B/Hip-Hop chart.
"At the video shoot, R. Kelly said to me, 'Yo, good work,' and told me that I should work on a remix." At 26, Raphael Hamilton is already a veteran of the music business and has been pursuing musical success for many years. He got his start in 1997, when his brother was a member of a Kelly-sponsored recording group called Vegas Cats. Then barely a teenager, Hamilton hung around Kelly's Chicago recording studio.
Raphael Hamilton received his first paycheck for music he created by co-producing a song that rapper Missy Elliott wanted in 2003. He was one of five writers on the Britney Spears' song, "(I Got That) Boom Boom" on her 2003 CD, "In The Zone." When Hamilton III landed a job as a Capitol Records executive and moved to California in 2004, his younger brother also relocated. Raphael Hamilton landed gigs engineering sessions for recording artists that included Ne-Yo, Mario,Cj Hilton,George Nozuka,The Cheetah Girls and Shanell aka SNL of Young Money."